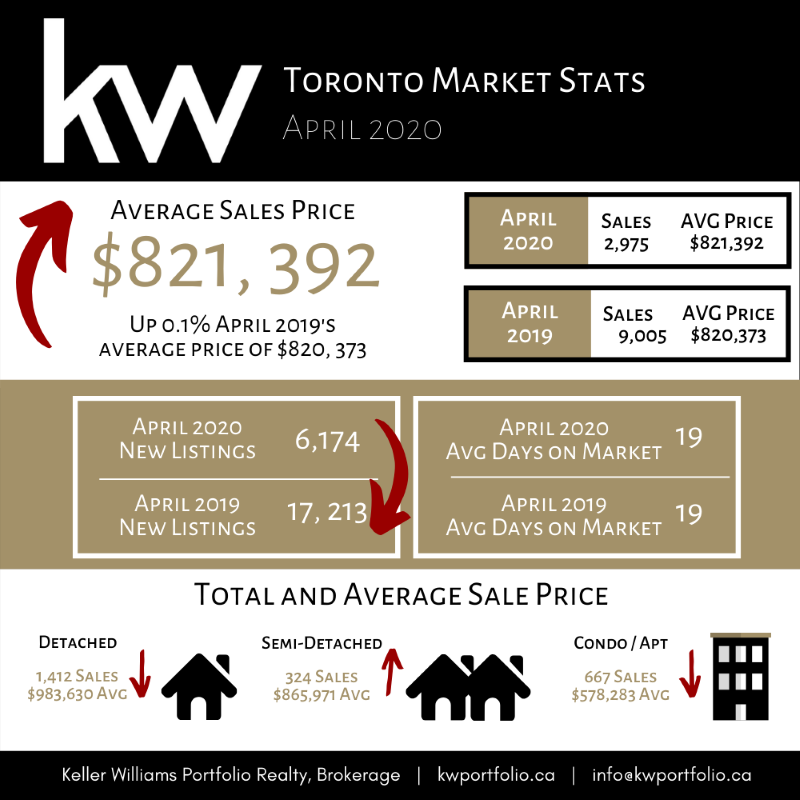 April Real Estate Stats for the Toronto Real Estate Board (which covers the GTA). Covid-19 had a big impact on the number of active buyers and sellers throughout April. However market performance continues to change week to week.
Going into May I'm seeing properties under $1M starting to move well indicating there are a number of active buyers on the market. Sellers continue to exercise caution 
with listings and inventory at low levels, which is keeping prices steady.

For those wondering why detached prices are down year over year (compared to April 2019), but semi-detached are up, its because many detached homes in greater Toronto are well in excess of $1M, which is out of reach for many buyers, but average semi-detached are under $1M. The lower price range of freehold properties continues to be active, and many buyers see this softer market as an opportunity to buy while it's still possible for their budget.

Condos are another story. First many buildings are restricting the showings and visitors within the building due to potential contamination. Second buyer psychology may have changed due to Covid-19 where buyers who were once open to living in 600-800 sqft in urban Toronto may be looking for alternative options with outdoor space. Third the down rental and investment market has contributed to more inventory on the market.

For a more detailed analysis email or call Jonathan at jonleerealesate@gmail.com or 647.983.0770.