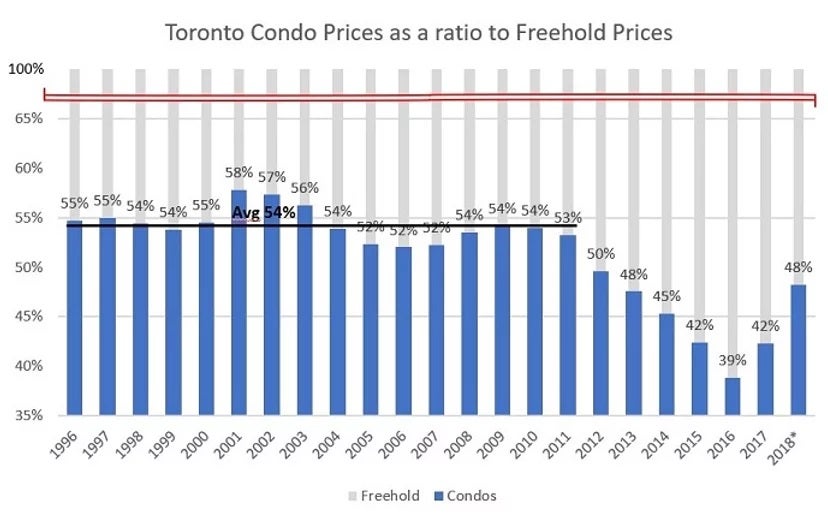 Between 1996 – 2011 the average re-sale condo price stood relatively stable at about 54% of the price of re-sale freehold property (detached, semis and row homes). Over this 16 year period, prices never exceeded 58% or dipped below 52% of freeholds in a single year.

For those unfamiliar with the term,
freehold
refers to the type of ownership and more or less means you own the building, land and nearly all the elements in it's entirety. There are no scheduled 'maintenance fees' as per with a condominium, but owners are responsible for their own maintenance and up-keep. Freehold tends to be the most desired form of ownership, but is also more expensive than Condos.
In terms of actual values:In
1996
the avg condo price was
$136k
compared to
$248k
for a freehold. Condo prices were
55%
of freehold.In
2011
the avg condo price was
$355k
compared to
$667k
for a freehold. Condo prices were
54%
of freehold.
Since 2011, that ratio dropped down to 39% predominantly due to rapidly rising freehold prices, and over the last couple years the ratio rebounded, and currently stands at 48% to end of September 2018. 

In
2016
the avg condo price was
$444k
compared to
$1.14M 
for a freehold. Condo prices were
39%
of freehold.In
2018* 
the avg condo price is
$591k
compared to
$1.23M
for a freehold. Condo prices are  
48%
of freehold.
In my last entry I wrote how
Toronto condo buyers and renters may be indirectly competing for the same stock
. With condo resale listings down and rental listings stagnant, rent and resale condo prices have risen significantly year over year for the last two years. All of this begs the question - Are condos now over-priced or are they just playing catch-up to freehold prices?
I should first say, the average condo in 1996 to 2007 to 2018 are all different. 3 bedroom condos exceeding 1200 sqft with parking spaces were more prominent in 1996. Since then condos largely became 1 and 2 bedroom units, but in recent years what constitutes a bedroom and a den has changed with sliding walls, and an exposed office nook being acceptable. These days you'll even see units under 499sqft without parking selling for over $500k in downtown Toronto.

Additionally with condos being one of the few housing types where stock is actually growing in Toronto, for many entering the market, freehold is no longer really an option due to price limitations.
With that said, it's hard to say if we'll see a return to 54% of freehold values, as the average condo has changed somuch while the average freehold hasn't changed much since 1996. Much of it will depend on if consumers can accept what they get (as a product) for a condo compared to a freehold.

History suggests that consumers may be open to accepting it – as 54% stayed fairly consistent when condos saw a transition from larger 2-3 bedroom units in the 90s down to 1-2 bedroom units in the 2000s.

For those pondering condo prices in Toronto, I'll finish by reminding that this is not an indicator of whether condo prices will continue rising independent of the general real estate market. I would still expect condo prices to rise/fall along with freehold prices, but the degree to which it may rise/fall may suggest there is some "padding" for condos - either rising a bit more or falling a bit less than freehold prices. 

*2018 sales to end of September 2018
All data sourced through TREB